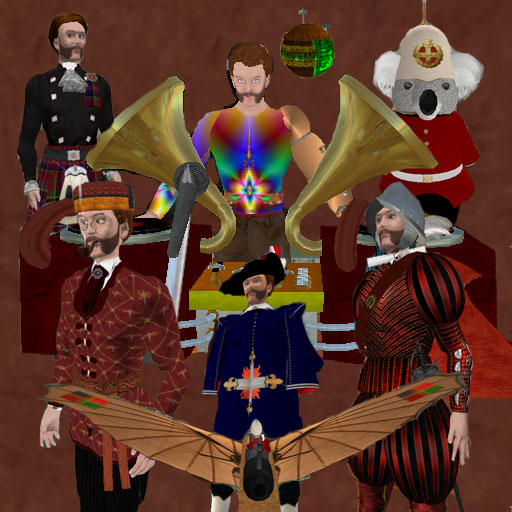 Name: Edward Pearse (Lord Prim­broke, Sir Edward, Edward or Mr. Pearse. Nev­er Eddie)
SL Rez Day: 13th Octo­ber, 2006
Blog: Through the Fil­ter of a Vic­to­ri­an Aes­thet­ic
Occu­pa­tion: Menswear tai­lor, builder, Radio DJ, Earl, Anglophile, Hus­band, Mil­i­tarist.
Music Library: Eclec­tic. There is large amounts of goth and alter­na­tive music from my RL DJing days. There's also vast quan­ti­ties of nov­el­ty songs as wit­nessed by my reg­u­lar Break­fast in Bab­bage broad­casts and as shown by my abil­i­ty to play 4 hours of Weird Al Yankovic (and all of it Authen­tic). My mod­ern music ranges from ACDC to Kylie Minogue as well as a large col­lec­tion of movie sound­tracks. And my Clas­si­cal col­lec­tion is not too shab­by either.

Bev­er­age of choice: Pep­si Max. My blood is caf­feinat­ed.
First CD owned: Jeff Wayne's The War of the Worlds.
Favourite TV Shows: Buffy the Vam­pire Slay­er, Leg­end, Fire­fly, Black­ad­der,
Favourite Movies: Broth­er­hood of the Wolf, The Great Race, The Pres­tige, The Name of the Rose, Leg­end
Favourite Books: Hotel Tran­syl­va­nia (Chelsea Quinn Yarbro), Jhereg (Steven Brust), Anno Drac­u­la (Kim New­man), Star­dust (Neil Gaiman), The Atroc­i­ty Archives (Charles Stross)
Quote: If the ene­my is in range, so are you.
What gives you a warm fuzzy feel­ing inside? Swal­low­ing a live ham­ster.
Oth­er: I used to be a reg­u­lar DJ at a week­ly goth club back in the 90s. Still likes my goth stuff. First SL DJ gig was for a goth theme night in Steel­head. I spoke to Gabi about using her stream. Had a great night (and crashed the sim). I was lat­er asked about get­ting involved with Radio Riel and here I am!