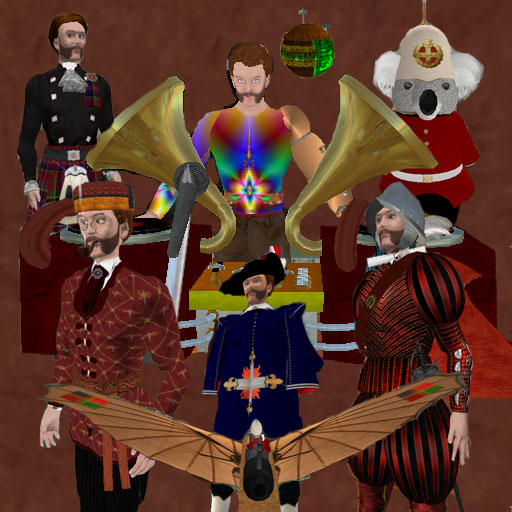 Name: Edward Pearse (Lord Primbroke, Sir Edward, Edward or Mr. Pearse. Never Eddie)
SL Rez Day: 13th October, 2006
Blog: Through the Filter of a Victorian Aesthetic
Occupation: Menswear tailor, builder, Radio DJ, Earl, Anglophile, Husband, Militarist.
Music Library: Eclectic. There is large amounts of goth and alternative music from my RL DJing days. There's also vast quantities of novelty songs as witnessed by my regular Breakfast in Babbage broadcasts and as shown by my ability to play 4 hours of Weird Al Yankovic (and all of it Authentic). My modern music ranges from ACDC to Kylie Minogue as well as a large collection of movie soundtracks. And my Classical collection is not too shabby either.

Beverage of choice: Pepsi Max. My blood is caffeinated.
First CD owned: Jeff Wayne's The War of the Worlds.
Favourite TV Shows: Buffy the Vampire Slayer, Legend, Firefly, Blackadder,
Favourite Movies: Brotherhood of the Wolf, The Great Race, The Prestige, The Name of the Rose, Legend
Favourite Books: Hotel Transylvania (Chelsea Quinn Yarbro), Jhereg (Steven Brust), Anno Dracula (Kim Newman), Stardust (Neil Gaiman), The Atrocity Archives (Charles Stross)
Quote: If the enemy is in range, so are you.
What gives you a warm fuzzy feeling inside? Swallowing a live hamster.
Other: I used to be a regular DJ at a weekly goth club back in the 90s. Still likes my goth stuff. First SL DJ gig was for a goth theme night in Steelhead. I spoke to Gabi about using her stream. Had a great night (and crashed the sim). I was later asked about getting involved with Radio Riel and here I am!